About OMTA


Mission & Vision
Representing the collective interests of Ontario's Independent Milk Transporters through one strong voice.

Values
Safety: Creating a safety culture in the areas of driver safety and food safety
Integrity: A reliable trusted partner in the dairy supply chain
Dependability: Our trucks work 365 days a year to ensure milk moves uninterrupted from Ontario's Farms to Dairies
Professionalism: Upholding the highest standards in the transportation industry

Mandate
A Safe, Efficient, Profitable & Valued component of the dairy supply chain.
---
History
Milk transporter associations date back to the 1930's in Ontario.
Toronto, Hamilton and the Ottawa areas all had associations of transporters which dealt with issues which affected transporters in their markets. There were other areas of the province that also had groups that met and discussed their common problems, but were not as formally organized as the three associations.
With the advent of milk marketing by the Ontario Milk Marketing Board in 1965 transportation was to be an important segment of the industry to the marketing plan. Meetings were held with OMMB chairman George McLaughlin and his wish was to have one body to deal with the transportation issues rather than having the OMMB having deal with the great number of transporters.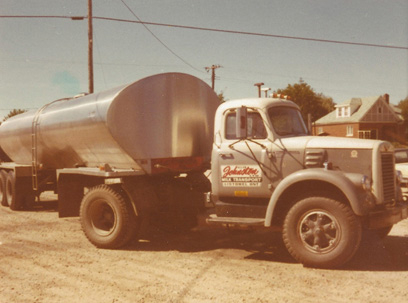 Membership as of 2019
Algoma Co-operative Transport
Allan Johnston Ltd.
Alma Milk Transport Inc.
Asselstine Milk Transport Ltd
Beckstead Milk Transport Ltd.
Blue Water Milk Transport Co-op
Durham Transport Ltd.
Emmett McCarthy & Sons Ltd.
Farmland Milk Transport Inc.
Gardiners Milk Transport Ltd.
Gay Lea Food Co-operative Ltd.
Greenbank Cartage Ltd.
Inter County Milk Transport Inc.
James Dale Milk Transport Ltd.
Keith Hall & Sons Transport Ltd.
Ken Steen Organic
Kingslea Transport Ltd.
La Fabrique Laitiere Ltd.
M. Chapman Milk Transport Inc.
M. J. Ladouceur Co. Ltd.
McCool Milk Transport
Milk Co-op Brant District
Neil McCollum Ltd.
Northern Ontario Milk Transport Ltd.
Ottawa Valley Milk Transport
Oxford Milkway Transport Co-op
Robert Ramseyer Milk Transport Ltd.
S. D. & G Milk Transport Ltd.
Stotesbury Transfer Ltd.
The Noblewood Transport Ltd.
Thunder Bay Milk Transport Ltd.
Thurler Milk Inc.
W.J. Lawrence Transport Ltd.
Wark Milk Transport Ltd.
Wellington Transport Ltd.